The Falcon
Multi-User Application Processor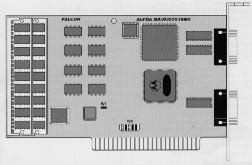 Personal computers are fine if you don't need to share information with other people in your office. However, a growing business reaches the point where isolated PCs just won't do the job. That's when you need a system where several users can easily share information, equipment and resources.
You could link PCs together with a local area network, but this is frequently an expensive and difficult to support solution, mainly because PCs are designed for only one user.
A better alternative would be to use your own personal computer as the basis for a true multi-user system, one specifically designed to support many users, each having simultaneous access to programs and data on the system.
Alpha Microsystems' new Falcon lets your PC do double duty. With a Falcon application processor installed, your computer can continue to function in a single-user mode running DOS or Microsoft Windows, and also become a multi-user business system running the applications necessary to effectively control your business.
Falcon technology gives you the best of both worlds. It combines personal productivity computing with multi-user business computing and allows you the freedom to manage your business in the most productive and economical manner possible.
No need to invest in an expensive PC for every employee's desk. Simply install a low cost ASCII terminal and connect it to the Falcon to instantly double the functionality of your PC. As your needs grow, add additional terminals. With Falcon, your original single-user system can handle the needs of up to seven users, all having simultaneous access to programs and data.
In addition to these outstanding features, the Falcon is application software compatible with the entire range of Alpha Micro systems. Multi-user applications that run on the Falcon will also run on our other systems, even those capable of supporting hundreds of users. As your business grows, you can easily migrate upward without compromising your investment in application software.
Later, your original PC can be networked directly to one of our larger systems, protecting your investment in hardware as well. So start out right with Falcon to enjoy the benefits of personal computing while gaining the powerful capabilities and efficiency of a true multi-user system.

Send mail to sales@alphamicro.be with questions or comments about this web site.