The Roadrunner
Processor Upgrade Module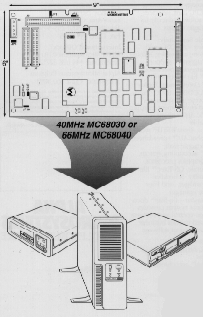 For two decades, Alpha Microsystems has provided superior system migration to our customers by continually supplying new products that are upward-compatible. Alpha Micro users have always been secure in the knowledge that their investment in applications software—and, in many cases, hardware—is protected since there is no built-in obsolescence.
With the Roadrunner system upgrade, Alpha Micro now provides the most economical and powerful growth path for our users. The Roadrunner is designed specifically for budget-conscious customers who need a substantial increase in system throughput at minimal cost. This in-place upgrade product gives vintage Alpha Micro computer systems the ability to assume performance levels never before possible, while minimizing site disruption and customer expense.
Boasting either a 40MHz 68030, 66MHz 68040 or 80MHz 68040 processor, up to 32MB of memory and an on-board, high-speed SCSI-2 peripheral processor, the Roadrunner can dramatically increase a system's data processing ability. Simply insert the Roadrunner processor into your existing system, update your software and you're off and running.
The Roadrunner uses your existing hardware as a peripheral controller for serial and parallel I/O, tape drives, VCR, and disk drives, and augments this with the powerful processing abilities of a 32-bit CPU. For even greater overall speed, upgrade your disks to SCSI-2 technology and take advantage of the Roadrunner's SCSI-2 processor.
And, buying a Roadrunner upgrade today sets the stage for the growth of your system tommorow. The Roadrunner is the first step on a migration path that transforms your existing legacy system into Alpha Micro's next generation computer family, the Eagle. With a Roadrunner in place, upgrading to the next level is both easy and economical.
Whether you're upgrading, need a new standalone system, or require a client server in a local area network, Alpha Micro's family of systems will meet your needs.

Send mail to sales@alphamicro.be with questions or comments about this web site.