AM-8000 Server System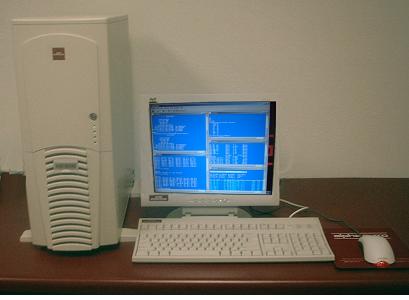 It is with great pride that Alpha Micro introduces its new flagship server, the stunningly fast AM-8000!
This system is ideal for AM-7000 users looking for additional performance or anybody looking to add astounding computing speed and business productivity to their computer system environment.
The AM-8000 took nearly two years to develop and employs the most sophisticated processor and disk technology available today. It also represents a departure from the Motorola processor family. The result is a system far faster than any Alpha Micro in history!
The AM-8000 employs two speedy AMD Athlon MP 2800+ processors. As processors evolve, the AM-8000 is upgradeable to the fastest CPUs to further enhance performance.
The AM-8000 employs the fastest disk interface technology available today: Ultra320 SCSI. To put this in perspective, this interface runs up to eight times the speed of the AM-7000's 40 MB/sec. Ultra Wide SCSI controller!
Continuing in Alpha Micro's tradition and commitment of ensuring compatibility with earlier generation systems, the AM-8000 is engineered to run application software that runs on earlier generation Alpha Micro hardware. This philosophy is very important because it allows our users to maintain their software investment. Naturally, you may migrate the SSD from a previous system over to the AM-8000.
The AM-8000 takes advantage of the best, most compatible hardware and software in the industry. Our engineering staff spent nearly two years rewriting critical portions of AMOS, extensively evaluating hardware, and ensuring compatibility in the new AMOS environment. The goal is to provide a software compatible, blazingly fast AMOS environment for our customers. The AM-8000 delivers on this mission.
For more on how your organization can profit from the AM-8000, call your local Alpha Micro Value Added Reseller or the nearest Alpha Micro office.

Send mail to sales@alphamicro.be with questions or comments about this web site.