AM-65 Video Display Terminal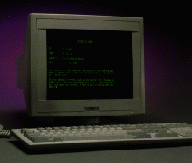 The AM-65 video display terminal offers a wealth of features that add up to excellent performance and value for your business.
The AM-65 meets the most demanding ergonomic requirements with a number of design features that make it one of the most comfortable terminals you'll ever use.
The 14 inch flat-profile screen reduces glare, while overscanned video eliminates distracting dark borders. And with the AM-65's fast 78Hz refresh rate, there's no annoying screen flicker.
For maximum readibility, the AM-65's high-resolution characters provide clean, crisp text in your preference of easy-to-read green, amber or page white. Plus, you have the option of dark characters on a light background, or vice-versa.
The AM-65 displays a convenient 24 or 42 lines, and 80 or 132 columns, easily accommodating typical word and data processing applications, as well as spreadsheets and wider documents. Top and bottom status lines provide space for displaying information and messages.
External contrast and brightness controls allow you to further tune the screen to your comfort level. The screen display tilts and swivels for easy positioning, and the entire terminal is a non-glare, low-contrast grey.
With its compact design and small footprint, the AM-65 can easily fit into your office environment, providing a clean, modern appearance.
The AM-65 is equipped with a full range of features not available on many alphanumeric terminals. It has been specifically designed to match the Alpha Micro computing environment with characteristics useful to both the general business user and the application programmer.
Two serial and one parallel port are standard. The serial ports are capable of high-speed (38.4K baud) communications, making screen repaints lightning-quick and improving operator productivity. You may optionally attach either a serial or parallel printer to the terminal for local printing of the screen contents.
The AM-65 also offers a complete set of display capabilities for making application programs look their best. Attributes such as blink, dim, blank, reverse video and underscore allow the creation of screens which highlight specific information for easy and quick reference by the operator. Also included are a wealth of editing capabilities, along with a set of line graphic characters for drawing charts, forms and menus.
There's also a convenient built-in toolkit consisting of a perpetual calendar and 10-key calculator with "tape" and five memories.
The AM-65 is easy to install, as it has four full-page setup screens for establishing parameters specific to individual environments.
The low-profile keyboard is also designed for comfort and ease of use. The 102 contoured keys are arranged in the familiar typewriter layout, with separate cursor and numeric keypads to speed input. Sixteen function keys are provided to assist with specialized functions, such as word processing.
There are also convenient indicators for Power, Caps Lock and Scroll Lock. And two non-reflective colors are used for keycaps to help you quickly distinguish between alphanumeric and other keys when word processing or inputting data.
Besides being lightweight, yet sturdy, the keyboard is detachable with a six foot coiled cord, so you can use it wherever it suits you best—on or across the desk, or even sitting in your lap.
The AM-65 comes ready for use in a multi-lingual environment. Its native character set is the ISO Latin-1 standard, supporting most languages used in Western Europe and North and South America. Keyboard conversion kits for various national languages are also available.

Send mail to sales@alphamicro.be with questions or comments about this web site.