AM-6060 Network Server
A powerful, versatile TCP Server for the AMOS world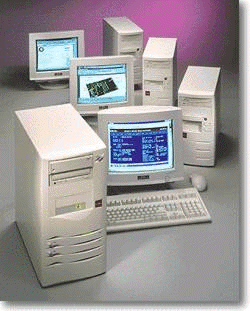 In today's network-aware business environment, connectivity means client/server computing. In the Alpha Microsystems community, that's the mission of the new AM-6060 Network Server.
The AM-6060 is a resource center that lets AMOS-based applications run on industry-standard networks and PC workstations. Inside the AM-6060, powerful processing and storage units provide high throughput and dependable performance. External peripherals offer added capacity and communication versatility.
In traditional Alpha Micro fashion, an AM-6060 installed today carries the potential to meet other, larger demands tomorrow. A field upgrade can transform any AM-6060 into an AM-6000 Business System, with support for over 200 direct-connected terminals plus a network.
If you're evaluating a network for expanding your AMOS-based application, consider the AM-6060. It's the new Alpha Micro computer designed for the world of networks
Product Highlights
Designed for the purpose — The AM-6060 is optimized for networking. Components, configurations and plans for future enhancement are all directed toward one goal: delivering top performance at workstations networked to an AMOS host.
Field-proven components — The AM-6060 is powered by the same MC68060-based processor used in our AM-6000 Business System. A 32-bit Ethernet controller, with a 10BaseT external port, is standard. A Wide SCSI bus supports the full Alpha Microsystems line of disks, tapes, and other SCSI peripherals. RAID mass storage is optionally available.
The right software — AlphaTCP is our AMOS-compatible implementation of the industry-standard TCP/IP protocol family. The latest version, AlphaTCP 1.4, comes with every AM-6060. AlphaTCP 1.4 includes TAME, short for TCP Access Made Easy. TAME is a software developer's tool that brings the networking power of TCP/IP directly to compatible end-user applications.
Optimized for networks, adaptable for growth — User workstations connect to the AM-6060 via an Ethernet network. The system also includes four serial ports, intended primarily for high-speed modems. Site requirements can change, of course, so the AM-6060 is designed to adapt. A field upgrade, installed inside the original chassis, converts the AM-6060 into an AM-6000 Business System. Expandability to over 200 ports is then available.
performance — The AM-6060 is a performance powerhouse. Our benchmarks s show sessions on the network delivering 50% more throughput than serial connections.
Pre-configured for easier installation — To help first-time networkers get started, we ship the AM-6060 with communication software already loaded. That can help your authorized Alpha Microsystems reseller install application software that much sooner. Our Technical Assistance Center has expert knowledge and special facilities to help tailor the system to site requirements.

Send mail to sales@alphamicro.be with questions or comments about this web site.