AM-6000 Business System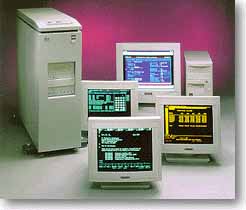 Today's information systems manager is beset by cross-currents in day-to-day operations, industry technology, and financial accountability. The challenge: deploy cost-effective computer power to fulfill increasingly varied and demanding tasks. Typical constraints: tighter deadlines, wider dispersion of client sites, and the need for non-stop operation while replacing prior generation equipment.
To meet these challenges, the Alpha Microsystems AM-6000 delivers unparalleled performance, multi-dimensional expandability, and total software compatibility. High performance flows from a design combining field-proven Roadrunner architecture with advanced technology components. The central processor, for example, is capable of superscalar performance at over 100 million operations per second — performance that far exceeds any prior Alpha Microsystems computer.
Mass storage also reaches new performance levels. A RISC-based disk controller provides high-speed, low-overhead connection to disks, tapes, and CD-ROM drives. For maximum throughput, a Wide SCSI bus is optionally available. An external connector for large peripheral devices, such as reel-to-reel computer tape drives, is standard equipment.
The AM-6000 supports client/server networks for personal computer attachment, computer-to-computer file sharing, Internet access, and other networking tasks. Industry-standard TCP/IP network software and an advanced design Ethernet controller are both furnished as standard.
Increased transaction volume, larger databases, and new applications may demand still more power in the years ahead. The AM-6000 is ready for field-installed expansion in memory, disk storage, tape backup, and serial ports for terminals, printers, and modems. Optional expansion cabinets provide room for growth outside the original system enclosure.
The AM-6000 embodies the Alpha Micro dedication to building computers that grow through advanced technology, but without the expense of changing application software. That's why the AM-6000 is a system as right for the future as it is for today.
For more on how your organization can profit from the AM-6000, call your local Alpha Micro Value Added Reseller or the nearest Alpha Micro office.

Send mail to sales@alphamicro.be with questions or comments about this web site.